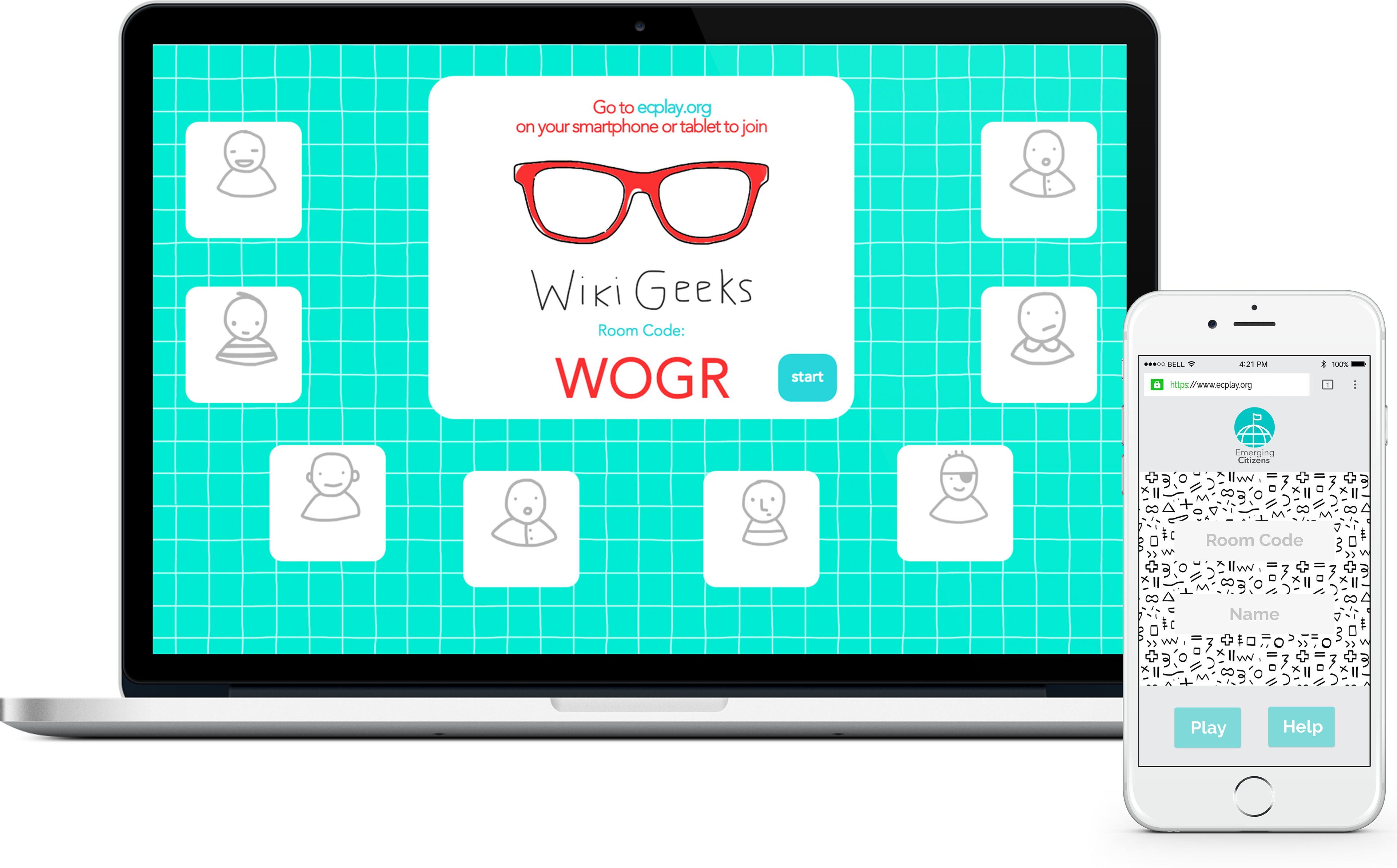 WHAT IS EMERGING CITIZENS?
Emerging Citizens is a free-to-play suite of digital multiplayer games that teach students how to critique and create civic media. Each game incorporates cultural and political topics while focusing on a specific digital modality (hashtags, memes, and hyperlinks). 
Hashtag You're It
 is a hashtag bluffing game where players read tweets with a real, hidden hashtag and then make their own hashtag to fool players into thinking its the real one. 
WikiGeeks
 is a real time race played using Wikipedia that pits players against each other in a search for specific pages using only links embedded within articles.
Wait Wait Don't Meme Me!
 is a creative meme generation game that asks players to visually contextualize and express large cultural topics by making memes and voting on them.
Emerging Citizens was designed to be played in the same room, which makes it perfect for parties, classrooms, and other gatherings. Emerging Citizens can be played with almost any device that can connect to the internet! No need to be on the same wireless network, no need to worry about bluetooth or having different devices. Every Emerging Citizens game starts the exact same way (using a central screen and a four digit room code), so once you learn how to launch one game, you'll be ready to play all three! 
The main screen is the game screen that can be seen by all players. This can be a TV, projector, large computer monitor, or any other device as long as all players can see it! The player screen is private and each player has their own. Players can use any internet connected device such as a laptop, phone or tablet, as their player screen!
I was the lead product manager and designer from inception through post release. I was responsible for game design, feature scoping, and UX flow for all three games+platform as well as led all client+agile team meetings. I did partial visual design work, specifically for the landing page and game tutorial screens, working under the lead art director. I led all user testing with teachers in live classroom settings, and traveled to conferences across the states and Europe promoting the suite of games alongside the Engagement Lab's Principal Investigator.
- Conducted market and user research with teachers and students through one year of design paper prototyping and playtesting.
- Led a team of game designers towards conceptualizing three digital game experiences based on needs of the users.
- Created product road map and scoped development timeline.
- Conceptualized and designed full sitemap, wireframes, and logic models for platform.
- Led user experience/user interface design for the platform in conjunction with our Art Director.
- Designed product landing page architecture and wireframes.
- Created pitch deck and facilitated workshop sessions with users in conjunction with Principal Investigator.