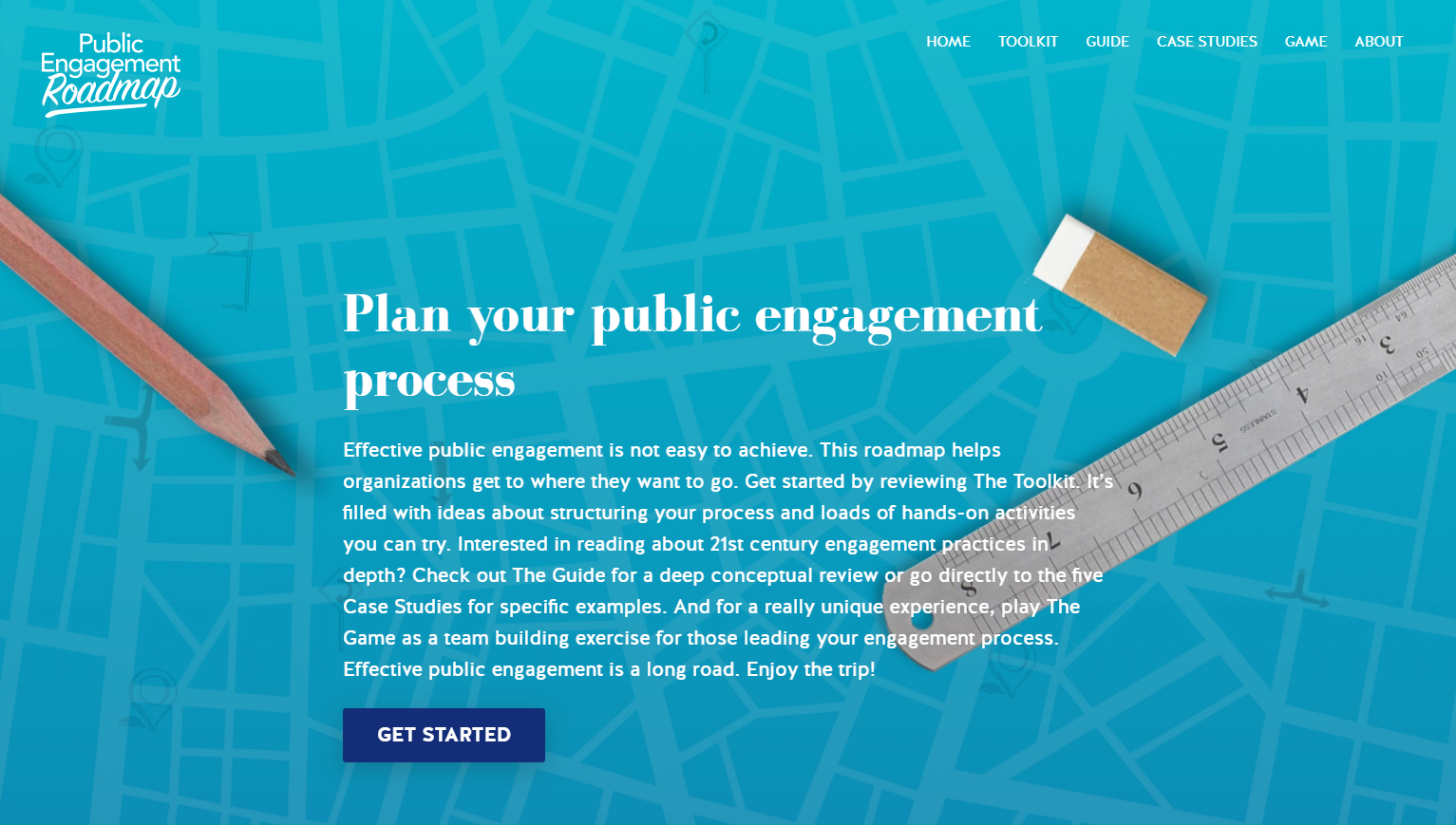 What is the Public Engagement Roadmap?
A suite of creative resources aimed at supporting all stages of planning public engagement for non-profits and governments on local, state, and national levels. The Roadmap provides an actionable, step-by-step breakdown for creative and effective public engagement. Emphasizing the model of co-production, where citizens collaborate at all stages of decision-making on public issues, the Roadmap balances digital and in-person strategies to help practitioners navigate the ever-shifting landscape of engagement in the 21st Century.

In all, the Roadmap comprises four resources grounded in design-thinking to help organizations map meaningful public engagement:

The Toolkit, a dynamic, online assessment that helps gauge where you are with your plan, what your plan's strengths are, and where you might benefit from some additional guidance, and then gets you started with a series of strategic exercises and practical activities to improve your engagement plan.

The Guide, a comprehensive report called, Accelerating Public Engagement, which provides background on public engagement and offers practical, detailed approaches to use when planning on- and offline processes.

The Case Studies, a closer look at the stories from participant cities in the City Accelerator program and how they embraced the model of co-production to discover new ways to engage more deeply with the communities they serve.

The Game, a tabletop game called, "Chart the Course" that guides players through an entire public engagement planning process and gives teams an opportunity to explore different engagement tactics, role-play possible outcomes with stakeholders, and reflect on the implications of their actions.

The Roadmap is based on practical findings summarized in Accelerating Public Engagement, a report written by Eric Gordon, Executive Director of the Engagement Lab and Associate Professor at Emerson College, about real-life examples from public engagement during the second cohort of Living Cities' City Accelerator program.

I led a supplementary freelance team to help conceive and build out the product based on input from user research compiled by colleagues at the Engagement Lab. I led all UX and product feature design and did all initial wireframes and early mockups before handing off to our freelance UI designer. The biggest achievement was the toolkit builder, which builds a custom engagement plan for each user by asking them specific questions related to their needs. These questions were sourced via multiple user testing sessions with working government officials. The user can then print out their custom engagement plan as a PDF or share individual activities via social media, email, etc. directly from the site.